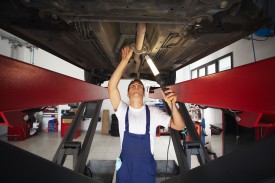 If your vehicle is having vibrations or squeaking while accelerating, clicking or popping while turning, Orr Automotive can help you determine the underlying cause of your problem.
There are different types of drivelines depending on whether your vehicle has rear wheel drive, front wheel drive, four-wheel drive, or all-wheel drive.
Rear wheel, four wheel or all-wheel drive vehicle your vehicle will have a drive shaft. The drive shaft connects to the transmission/transfer case and differential through a series of universal joints.
Most universal joints are sealed and don't require periodic lubrication. However, regular inspection is recommended.
Front wheel drive vehicles have two drive axles.  The drive axles turn the wheels.
The drive axle connects to the transaxle and wheel hub assembly through two constant velocity joints.
The constant velocity joints are sealed with a boot and are not serviceable. If the boot tears the CV joint will lose its grease and leave the joint exposed to weather and road debris.  This will eventually damage the joint.
If you experience any of the following conditions, you may have a problem with your drive shaft, universal joints or CV joints:
The car or truck vibrates while driving down the road
A clunking sound is heard upon putting the car or truck in reverse or drive
A squeaking sound is heard while driving at lower speeds
At the Orr Automotive we can repair and inspect:
Drive Shaft
CV Axles
Re-manufactured Axles
New Axles
Front Differential
Ring and Pinion Gear Sets Plus Installation Components
Differential Assemblies
Carrier Assemblies
Differential Bearings
Axle Shafts and Bearings
Gaskets and Seals
ABS Tone Rings
Rear Differential
Ring and Pinion Gear Sets Plus Installation Components
Differential Assemblies
Carrier Assemblies
Differential Bearings
Axle Shafts and Bearings
Gaskets and Seals
ABS Tone Rings