Toyota Repairs Done Fast and Done Right in San Bernardino County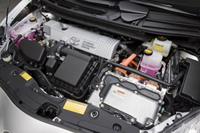 Toyota maintenance is necessary to protect your investment. If you own your Toyota, regular Toyota maintenance helps increase its resale value. If you're required to maintain your vehicle, why not trust your Toyota to those who know it best – the technicians at Orr Automotive Repair. Most of the years we've been in business we've specialized in foreign automobiles, so we know what it takes to diagnose a problem with your Toyota and repair it. We're Toyota repair experts.
Toyota Maintenance: Keeping Your Toyota in Shape
More Frequent Oil Changes might have saved this engine...
Taking an active role in the maintenance of your Toyota is necessary in order to protect your investment. Proper maintenance will help extend the life of your Toyota and preserve its value. Regular maintenance will also help you avoid costly repairs down the road as well as optimize your Toyota's performance, safety and fuel efficiency.
There are factory-recommended service intervals for your Toyota. Relying upon these intervals will only help you get the minimum life out of your car. Driving conditions in Silicon Valley area, as well as your individual driving style, should dictate how often you perform the routine maintenance on your Toyota. Repairs can often be avoided, and Orr Automotive Repair is well-equipped to advise you on the best maintenance schedule for your Toyota. For expert Toyota repairs in Claremont, Montclair or Upland, call Orr Automotive Repair.
Toyota Service: Experience Matters
A great number of people think you must have your Toyota service done at a dealership, otherwise you will void your new car warranty. This is not true. They also believe that if the dealership technicians are working on Toyotas all day long, they should know what they are doing. This is not always the case either. Trust your Toyota repairs, Toyota service, and Toyota maintenance to the experts at Orr Automotive Repair. We've not only worked on countless foreign cars during our business lifetime, we care about the safety and reliability of your car.
When it comes to servicing your Toyota, contact Orr Automotive Repair.